Product Ownership Analysis Study Group (IIBA CPOA Online Certification)
Thursday, September 8, 2022 -
Online training for IIBA®-CPOA certification and deep dive into business analysis for product ownership.
About this event
Are you interested in IIBA®-CPOA certificate, or would like to do a deep dive into business analysis for product ownership?
Then this agile product ownership analysis training is for you!
Product Owner Analysis is a discipline that assists teams to create and deliver exceptional products and services, with proven practices cultivated from a range of domains
RTP IIBA Chapter will host a VIRTUAL Product Ownership Analysis study group for those individuals interested in IIBA®-CPOA certification or learning the IIBA Guide to Product Ownership Analysis to better their career.
The chapter will run the study group for 5 sessions.
It will be an instructor-led course, taught by Bluegrass IIBA Chapter, and will cover all the seven (7) Knowledge Areas of POA.
1. Apply Foundational Concepts
2. Cultivate Customer Intimacy
3. Engage the Whole Team
4. Make an Impact
5. Deliver Often
6. Learn Fast
7. Obsess About Value
Dates and Times
The class will be on Thursday Evenings starting from
September 8 – October 6, 2022 :: 6:00 PM To 9.00 PM (USA, New York time -EST)
The study sessions will provide 15.0 PD Hours | 15.0 CDUs for those students seeking IIBA® core certification.
The study group is open to everyone internationally and is taught in American English.
This workshop is registered with IIBA and qualifies for 15.0 Professional Development (PD) Hours toward IIBA® core certifications and 15.0 Continuing Development Units (CDU) toward retaining your existing IIBA® core certification or IIBA®-CPOA certification.
Level
Novice
Intermediate
Experienced
Business Analyst Manager
Don't forget: Let your friends and colleagues know about this month's event by forwarding this event to them.
This study group uses additional study material, student homework and provides a practice test experience for students.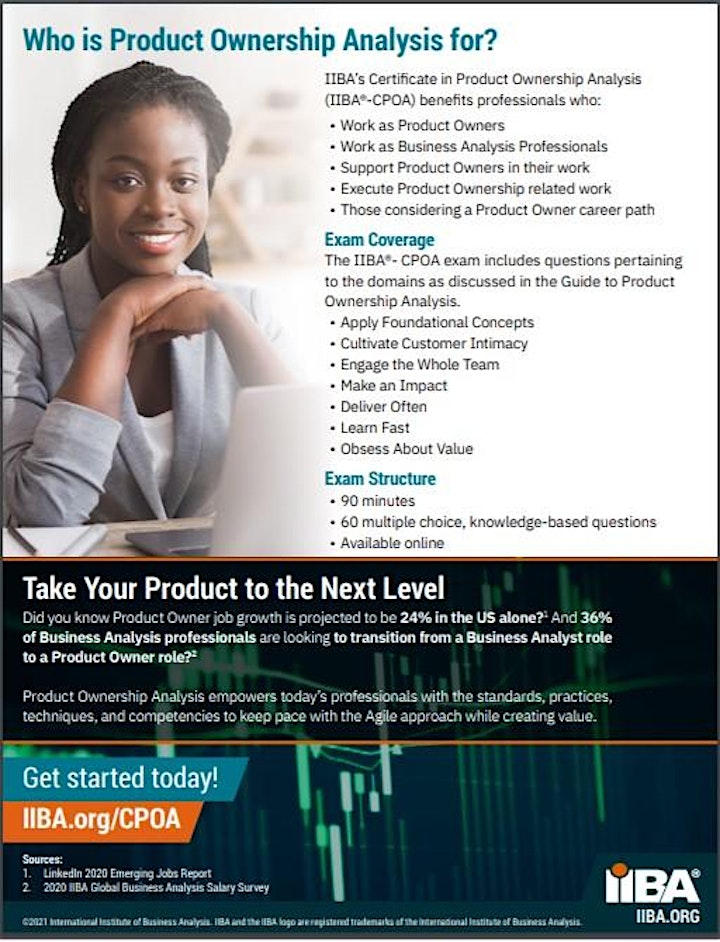 Event Details:
Register on Eventbrite - https://www.eventbrite.com/e/product-ownership-analysis-study-group-iiba-cpoa-online-certification-tickets-238619426127
Event Location:
Online Study Group, Bluegrass Chapter